Hypermotive accredited into defence contractors database JOSCAR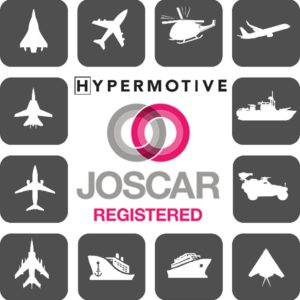 Hypermotive are pleased to announce that we been awarded JOSCAR accreditation.
JOSCAR (the Joint Supply Chain Accreditation Register) is the accreditation and compliance system for the defence, aerospace and security sectors; covering many of the defence prime contractors. JOSCAR acts as a single repository for pre-qualification and compliance information for key suppliers into these sectors. Accreditation is by invite only, so Hypermotive are grateful to our defence and aerospace customers for their nominations.
The JOSCAR Registration Mark indicates that Hypermotive has successfully demonstrated its commitment and credentials to the defence and aerospace sectors. It also indicates Hypermotive's ongoing commitment to deliver our electrical and eMobility engineering services and products to the highest levels of quality and customer acceptance demanded by these sectors.
For more information on JOSCAR visit https://hellios.com/joscar/