Hypermotive support IMechE Formula Student 2021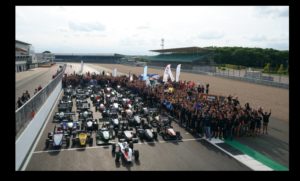 IMechE Formula Student event returns to Silverstone!
With the 2020 event cancelled due to COVID, Hypermotive are excited to be supporting the return of the Formula Student event at Silverstone this year.
The event runs from 22nd to 25th July, with hundreds of students competing with race cars (ICE, Hybrid, EV and now Autonomous), many of which were designed and built during the challenging months of the pandemic.
Once again Hypermotive are providing the EV Safety Team for the event; our electrical engineers providing their experience and support to the growing number of electric and hybrid vehicles entered. Hypermotive have also delivered a number of pre-event online EV safety training sessions to the students and supervisors participating in these race categories.
Hypermotive have designed and delivered the electrical systems for the IMechE's own autonomous vehicles  which University teams can use as a pre-built option where they can focus on developing their autonomous code to race the vehicle quickly but accurately around  the course at Silverstone's infield.
Hypermotive's Engineering Director Jeremy Bowman. "For number of years now, Hypermotive have enjoyed being involved in Formula Student. Some of our own engineers have been shaped by their involvement in Formula Student while they were at university and so it's a great opportunity for our business to give something back and support the IMechE ininvesting in the engineers of tomorrow.
Our engineers will be at Silverstone from 22nd to 25th – we look forwards to meeting this year's entrants!