Hypermotive Ltd. announce an investment from London-based AP Ventures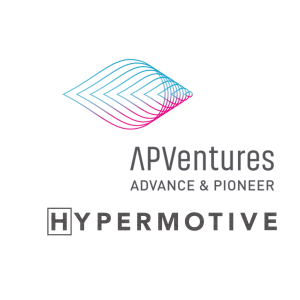 Lutterworth, UK – September 27th, 2022
Hypermotive Ltd. ("Hypermotive"), a leader in electric and fuel cell vehicle systems integration, today announced an investment from London-based AP Ventures.
Hypermotive has gained a reputation across a wide range of transport sectors for its innovative integration solutions for battery electric and fuel cell vehicles. Supported by a world-class manufacturing division, Hypermotive has been developing a portfolio of products and services to accelerate the development of the next generation of zero-emission transportation technologies.
Since its formation in 2016, Hypermotive's business has enjoyed year-on-year growth and expansion, from its core markets of automotive and commercial vehicles, into rail, marine, aerospace and defence. This strategic investment from AP Ventures will support Hypermotive's ambitions to rapidly scale in a number of key markets to meet the growing demand for its services, products and manufacturing.
Adam Huckstep, Managing Director of Hypermotive, said "The investment from AP Ventures is the natural progression of the relationship that has developed between our organisations, which includes Hypermotive already working with one of AP Ventures' portfolio companies. The capital investment, coupled with the exploitation of existing and new synergies with AP Ventures, will help us to accelerate Hypermotive's growth and capitalise on the increasing demand for zero-emission technologies including fuel cells.
With AP Ventures' support we will continue to invest in our tier-1 manufacturing capacity to serve our series production customers, further develop our growing e-mobility product and engineering services portfolio, and significantly expand our activities in the hydrogen and fuel cell sector."
"We are thrilled to invest in Hypermotive and to help the business further expand its portfolio of zero-emission transportation products and engineering services", says Kevin Eggers, founding Partner at AP Ventures. "The team's peerless experience in fuel cell and electrical powertrain engineering, coupled with their deep knowledge of the mobility sector, is highly synergistic with AP Ventures' commitment to the hydrogen value chain."
About Hypermotive
Founded in 2016, Hypermotive Ltd. is one of Europe's leading electric vehicle systems and fuel cell integrators, with a number of facilities across the UK and Germany. Hypermotive operates three business divisions: Hypermotive Fuel Cell (FC) Systems, Hypermotive Electric Vehicle (EV) Systems; and Hypermotive Wiring Systems (Manufacturing)
Hypermotive's Fuel Cell Systems team leads fuel cell programs for customers from technology startups to automotive OEMs.  The Company has experience of integrating fuel cells into all transport sectors including: automotive; commercial vehicle; off-highway; rail; marine; and aerospace. Hypermotive's fuel cell engineering capability includes system design, controls and monitoring, air handling, fuel handling and thermal management and the electrical and mechanical integration of fuel cells and hydrogen storage systems. The Company is frequently engaged as technical advisor by a number of e-mobility industry bodies.
Hypermotive's broader electrical engineering capability includes: low-voltage and high-voltage systems design; electronics design; software/control development; and functional safety. The Company is also a tier-1 manufacturer of electrical systems for fuel cell and battery vehicles.
More info at: www.hyper-motive.com
About AP Ventures
AP Ventures is headquartered in London and manages venture capital funds with a global mandate to invest in pioneering new technologies and businesses which aim to solve global challenges such as renewable energy integration and resource scarcity. AP Ventures has been investing in the hydrogen industry since 2013 and is recognized as a leading venture capital fund across this value chain. AP Ventures manages $395m of assets on behalf of 12 LPs and invested in more than 20 technology companies across the hydrogen value chain. AP Ventures is led by Andrew Hinkly (Managing Partner) and Kevin Eggers (Partner).
More info at: www.apventures.com