Hypermotive supports hydrogen powered train at COP26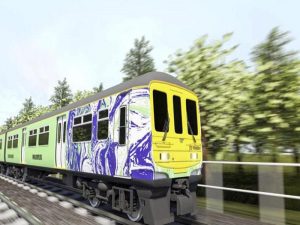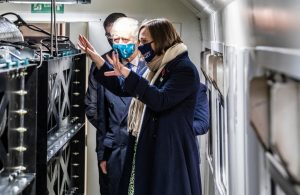 HYPERMOTIVE SUPPORTS HYDROGEN-POWERED TRAIN DEBUT AT COP26
https://www.porterbrook.co.uk/hydroflex-cop
Hypermotive is one of almost 30 UK based businesses that have worked together to deliver Britain's first hydrogen-powered train which will be showcased by Porterbrook, in partnership with Network Rail, at November's UN Climate Change Conference of the Parties (COP26) in Glasgow.
Porterbrook has invested £7m in the HydroFLEX, which will demonstrate how green-hydrogen and innovative-engineering can accelerate delivery of environmental benefits to passengers and the communities the railway serves.
The build and delivery of HydroFLEX has been supported by the University of Birmingham and a range of businesses, many new to rail, which has successfully created the UK's first hydrogen-rail supply chain.
Hypermotive has been proud to work with Porterbrook as part of the supply chain team that has delivered HydroFLEX within less than a year.
As part of the project, Hypermotive designed and supplied the Independent Power System Controller (IPSC) and electrical systems to manage the hydrogen fuel storage, energy conversion systems and energy storage systems that power the train.   The deliverables included electrical design, electronic controller design, complex systems engineering, software development, and manufacture of the controller and associated wiring harnesses.
This cross-industry collaboration will see the ground-breaking HydroFLEX make its first passenger journeys at COP26, to showcase the possibility of leading British green technology on the world stage.
The HydroFLEX train at COP26 includes an 'on-board boardroom', giving invited special guests the chance to use the train to support the globally significant discussions that will take place in and around the COP.
Hypermotive was critical in providing the IPSC controller and rail specification wiring harnesses with over 3km of wire providing the main energy delivery control system and instrumentation for the train.
Jeremy Bowman, Engineering Director and co-founder of Hypermotive, said:
"Our contribution to the HydroFLEX project has been a highlight of 2021 and has once again allowed Hypermotive to demonstrate our capability to efficiently and innovatively integrate the functions of hydrogen storage, fuel cell technology and batteries into a complex and demanding platform.  Our flexible development approach has allowed us to work closely with Porterbrook and their suppliers from the early concept stage of the project through to manufacturing and delivery of a unique control system, fully optimised for the application."
Mary Grant, CEO of Porterbrook, said:
"We are incredibly proud to work alongside some truly great British businesses, whose skills and expertise have helped us take HydroFLEX to COP26. This reflects a high level of collaboration across the private sector which in turn has been supported by our Network Rail and University of Birmingham partners. Seeing HydroFLEX in action in Glasgow will be a true milestone moment as we accelerate the rail industry's journey towards Net Zero."
For more information, visit:
https://www.porterbrook.co.uk/hydroflex-cop
< ENDS >
PR enquiries can be directed to:
Adam Huckstep, Managing Director
contact@hyper-motive.com or +44 (0)1455 377310
Porterbrook Leasing
Rupert Brennan Brown, Director of Stakeholder Engagement
rupert@porterbrook.co.uk or +44 (0)7973 950 923