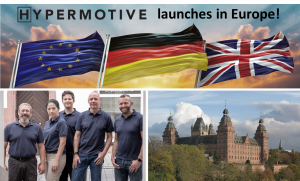 Hypermotive launches in Europe!
Hypermotive are pleased to announce the formal launch of our European subsidiary, Hypermotive GmbH
Hypermotive GmbH is the natural progression of a long-term partnership with German eMobility engineering and battery distributor GS-Power. Hypermotive GmbH will bring Hypermotive's eMobility products and integration engineering to EU and Scandinavian customers.
Based in northern Bavaria, Hypermotive GmbH is ideally positioned to support the automotive, motorsport and marine markets in Germany and wider Europe.
Adam Huckstep, Managing Director at Hypermotive Group, "Hypermotive's increasing engagement with European-based customers, coupled with the challenges of Brexit, meant that it was becoming very important for Hypermotive to have a permanent establishment in the EU.  Hypermotive GmbH provides a highly skilled engineering team, access to vehicle workshops, testing and manufacturing capability, based in the heart of Europe.
Guido Seitz, Managing Director of GS.net GmbH & Co KG and Hypermotive GmbH, "We've been collaborating with Hypermotive Ltd. for quite some time now, so the launch of Hypermotive GmbH is the logical consequence. Our team of engineers and technicians based in Großostheim (Aschaffenburg) are delivering Hypermotive's eMobility engineering and products directly to customers within the European economic zone.
Hypermotive GmbH is focussed on delivering fuel cell, battery and autonomous vehicle programmes, with particular expertise in the automotive, motorsport and marine sectors.